February 14th, one day among 364 others that demands a little romance. In preparation for this amorous holiday, I present to you 11 tantalizing, captivating and love-inducing photos of delightfully lit spaces that virtually radiate with romantic appeal.
1. A Wedding at Dusk – Exposed antique string lights are a graceful touch above this wedding reception table. Vintage bulbs cast a beautiful, soft light without a harsh glare.
2. Kakslauttanen Arctic Resort, Finland  – It's the romantic lighting double whammy. Lie in bed inside these softly lit glass igloos in Kakslauttanen, Finland while you gaze upon the most fascinating light exhibit on earth: the Aurora Borealis. Bam.
3. A Wedding that Sparkles – With a little digital creativity, this photographer incorporated light into an evening photo shoot with shimmering words of affection.
4. Let's Go Glamping! – No, that's not a typo. I said "Glamping." You know, glamorous + camping?
5. Float Away – Linger in this multi million dollar basement home that boasts a floating bathtub. LED backlighting on the mirrors and dimmed recessed can lights provide just the right amount of light for a romantic interlude. Floating candles or submersible lights under the tub make it extra-dreamy.
6. Earth, Fire and Water – Soak in the view in this exotic & romantic bath with uplights, downlights, and candles that highlight the exquisite architectural details without overwhelming the room with light.
7. Dinner on the Beach – As if the beach wasn't romantic enough, when you add flickering candles and a gorgeous sunset, the love-factor skyrockets.
8. In a Galaxy Far, Far Away – The one image that deviates from the warm light trend is this ethereal hotel room in Paris, France that makes you feel like you're floating in a galaxy of stars.
9. Lakeside Dinner for Two – String lights and hanging lanterns cast a perfectly warm glow onto a romantic lakeside dinner.
10. Fairy Tale Garden – Bring your own fairy tale to life by hanging globe lights at different heights throughout a canopy of trees.
11. The Den of Opulence – Fit for a princess, this candle and fire-lit bedroom brings to mind castles with walls that appear to be carved out of stone.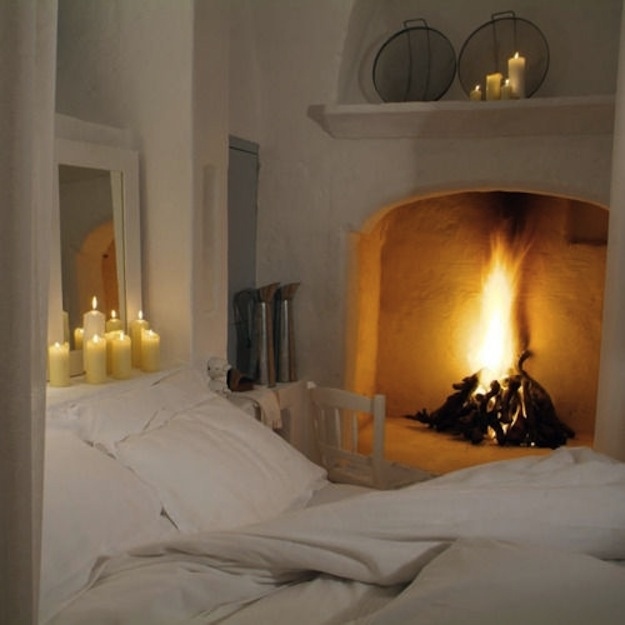 ---
Create your own romantic getaway with our Guide to Perfect Valentine's Day Lighting, and get inspired on our Romantic Lighting Pinterest board.