It's Superbowl season, which means we're thinking about football. Whether you are a fan or not, it's almost impossible to ignore the heated sports radio debates and proudly waving window flags of die-hard fans. To celebrate this (almost) National holiday, I gathered some truly awe-inspiring, jaw-dropping, drool-inducing images of how 5 Houzz'ers creatively & effectively used light in some of the most elaborate media rooms we've ever seen.
1. I can't decide… should I melt into the supple leather of these seats, play a quick game of pool, or belly up at the bar to watch the game? Decisions, decisions…
What I love about the lighting design: Colorful cove lighting is perfect for movie & game watching and can be matched to your favorite team. Using a color-changing LED tape light, you can keep it on one color, or program it to automatically change throughout the game.

2. For those who'd rather stay focused on the game with zero distractions, consider this theater style entertainment room with a big focus on football.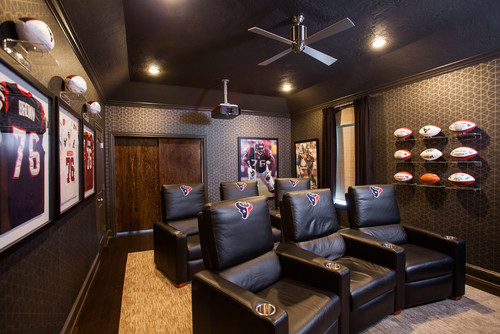 What I love about the lighting design: Recessed lights are positioned along the "aisles" and are dimmable, giving you just enough light for a mid-game snack run.

3. For those lucky enough to live in tropical climates (and be ga-zillionaires), take the media room outside. Who am I kidding? I'd be out here in sub-zero temperatures if I had a room this amazing.
What I love about the lighting design: What's not to love? From the LED recessed lights and color-changing LED strips running along the steps, to the natural glow from the gas-powered fireplace and torches, this is unbelievably stunning.

4. Who says man-caves can't have chandeliers?
What I love about the lighting design: Part modern, part chic, part masculine. Warm temperature overhead lights from the chandelier center over the seating areas and cooler temperature puck lights showcase the homeowner's helmet and jersey collections.

5. Let's just say, if you have to work during the Superbowl, it would be pretty sweet to do it while surrounded by an immensely realistic stadium mural. Hey, if I paint the Bank of America Stadium, can I pretend that the Carolina Panthers made it to the Superbowl? A girl can dream.
What I love about the lighting design: Track lights focus the illumination on the desk area without casting a harsh glare on the TV screen, and mimic the stadium lights in the mural.
On February 1st I won't be in a media room nearly as extravagant as these five, and I won't be watching my team (sigh), but I'm looking on the bright side. Now I've got 365+ days and the inspiration I need to design one impressive football-watchin' Superbowl 2016 haven.