LED rope lights might be taking over the world. They have prompted more than one article from us, and seem to be capturing people's imaginations everywhere. This week we are going to look at 8 more stunning photos of creatively used LED rope lighting, just in time for the warmer weather.
1) Totally Tubular
By using a length of flexible vent hose, some DIYer has created the ultimate weird light fixture! Something like this would be cool in a kid's room or anywhere in a home with artsy decor. This light fixture creates a soft, warm glow and draws the eye. The overall effect is a FUN!
2) The Evolution of LED Rope Word Art
We've seen words written on walls in LED rope, but never with this kind of frame. How clever! As the evolution of LED rope continues, I would expect to see even more eye-catching wire frames. It's all about making something that looks good even when rope is not illuminated. This DIYer is definitely on the right track.
3) LED Rope with a Side of More Rope
So many people with creative jobs have home studios. And sometimes those home studios spill out of the office and into the living room! This use of LED rope is pretty impressive. The variation in the way the LED rope is weaved in with regular rope grabs attention and keeps it. Neat!
4) Katy Perry Loves LEDs
It seems to be true. She wore garments with integrated LEDs at the Grammy's and loves to have LED lighting on stage with her. Here, we can see how cool LED rope can be on the stage. There are innumerable shapes and symbols that could be constructed or outlined with LED rope to make a musical performance more visually appealing. Rock on!
5) Wrap Your Porch like a Present
This is not a new application of LED rope lights, but, since spring is here, we thought it would be helpful to remind our readers of the infallibility of LED rope for outdoor, especially porch and patio lighting. I love this application because it is SO transformative. What once was a shadowy wood conglomeration is now a livable space for hard core hanging out! Such an easy way to make your outdoor area vibrant and, dare I say it, vivacious.
6) "We're gonna need more rope."
Using rope to play with LED rope has become wildly popular during the past year or so. I love the way this piece displays what I think of as a controlled tangle. This lighting application is artistic in the way it arrest attention and invites questions. Like, "What is the point of this?" And you're led to answer yourself: It's a source of light that serves a function while it conveys a unique look. Good stuff.
7) LED Rope for Starting Seedlings
This is a fun application that allows me to disspell a myth about LED lights. Many poeple think that LEDs do not emit heat. Untrue. They do emit heat. "But I thought they were energy efficient?" They are. The emit heat but not as much as incandscent lights. Because they emit a little bit of heat (but not too much), they are great for providing seedlings with the conditoins they love: Warmth and light, without too much intensity.
8) Cove Lighting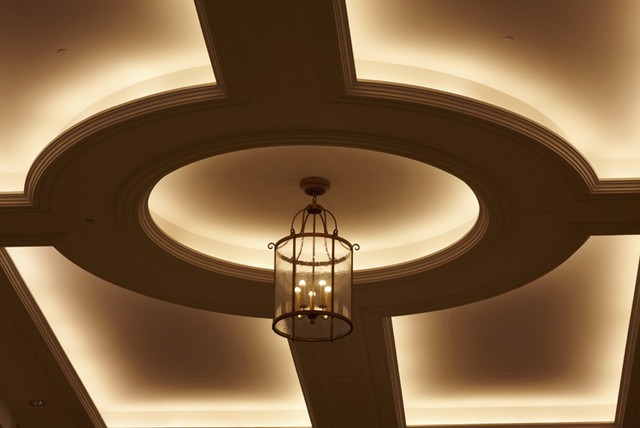 This is another application that is not new but should be restated. LED rope is a great, relatively inexpensive way to install cove lighting. This is great in residential and commercial settings and needs to be restated because cove lighting creates such a dramatic transformation for any space, and LED rope is just an excellent way to achieve it.
How have you used LED rope lighting?