As part of our series on pop culture from 15 years ago – a continuing celebration of our 15th anniversary as Pegasus Lighting – here are 15 moments from March 1999 you may remember. Monica Lewinsky's book on her affair with Bill Clinton goes on sale; the Dow Jones average beats 1000 for the first time; and The Matrix is released. Ah, the sweet 90s. Where were you?
1. Jar Jar Annoys Basically Everyone
At the Golden Raspberry Awards, better known as the Razzies, the award for Worst Supporting Actor went to Ahmed Best, who voiced the character Jar Jar Binks in STAR WARS: EPISODE 1, THE PHANTOM MENACE. Poor Jar Jar, you-sa not much appreciated by STAR WARS fans.
2. The Worst Picture of the Year
A jury in Michigan found Dr. Jack Kevorkian guilty of second-degree murder for administering a lethal injection to a terminally ill man. This sparked a controversy that remains vital today. Should terminally ill people be able to control how and when they pass away? Kevorkian caused the nation and perhaps world to ask hard questions about what it means to be human and humane.
4. Cha-ching! The Roth 401(k) Is Introduced
The Roth 401(k) combined elements of the Roth IRA and the traditional 401(k). In a traditional 401(k), you contribute income without paying taxes on it. You then pay taxes on the funds when you withdraw them during retirement. With the Roth 401(k), however, you pay the taxes upfront so that you can withdrawal funds tax-free during retirement.
 5. The Melissa Worm Attacks the Internet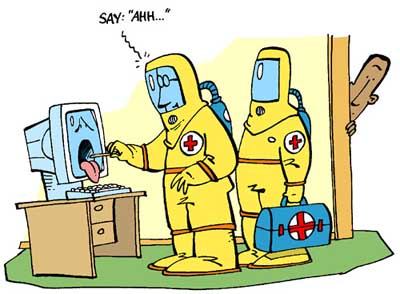 In March, 1999, the "Melissa" worm appeared out of nowhere, damaging e-mail programs by clogging them with infected e-mails issuing forth from the worm. It was the first big email worm, originally delivered in a file passed between members of a Usenet discussion group. Let's just say the file had "adult" content. The worm then wormed its way into major email software products and sent it self out widely into the email inboxes of thousands of unsuspecting victims.
Melissa didn't do much actual damage, but the worm caused something of a panic in the corporate world. The author of the worm was caught and eventually served 20 months of a 10 year sentence and was fined $5,000.
6. Cha-ching Part 2: The Dow Jones Soars
At the end of March 1999, the Dow Jones Industrial Average closed above the 10,000 mark at 10,006.78. This was unprecedented! People made "DOW 10,000" hats and celebrated. In hindsight, people wonder whether that day represented the peak of our economy's health up to that point or the peak of market excess that was responsible for the economic instability of the 2000s.
7. You Are the One, Neo
You also know kung fu. You also can dodge bullets. THE MATRIX was released in theaters in March 1999, and it immediately captured the attention of the nation and world. Running on walls, doing all kinds of spin kicks, jumping across builds, and eventually, well, just straight-up flying: This movie took spectacle to the next level and influenced many science fiction action movies to come.
8. Spielberg Still Has the Skills
Legendary film director Steven Spielberg was once again named Best Director at the Academy Awards for SAVING PRIVATE RYAN. In fact, the director of early 80s movies like E.T. was on a real tear, just coming off of the JURASSIC PARK series and SCHINDLER'S LIST. He continues to direct great movies today.
9. Roberto Begnigni Is Exuberant 
Roberto Benigni won Best Actor for his role in LIFE IS BEAUTIFUL at the 1999 Academy Awards. His reaction immediately became more popular that the movie itself. I'll have a glass of whatever he's drinking!
10. Gwyneth Wins Best Actress
SHAKESPEARE IN LOVE was the most awarded film of the night of the Academy Awards. Perhaps the most touching award acceptance, though, was Gwyneth Paltrow's. Try to watch her acceptance speech without getting teary. I dare you.
11. Lewinsky Tells All
If you've read the previous two posts in this series, you know that 1999 did not start out too well for former President of the United States, Bill Clinton. In early March, Monica Lewinsky was interviewed by Barbara Walters on ABC's 20/20. The interview was watched by 70 million Americans, which broke a record for news show audience. Lewinsky had also cooperated with a writer to produce Monica's Story, a biography of her life including her description of the Clinton affair, and the book was published in March 1999. An excerpt of the book was also used as a cover story in TIME magazine. According to Wikipedia, Lewinsky made about $500,000 from her participation in the book and another $1 million from international rights to the Walters interview. Cha-ching part 3, am I right?!
12. March Madness 
March Madness, 1999: In the national championship game, Connecticut defeated Duke 77-74 to win their first ever national championship, breaking Duke's 32-game winning streak.
13. Killer Convicted
In March, 1999, The Supreme Court of the United States upheld the murder convictions of Timothy McVeigh for the Oklahoma City bombing, which left too many dead and wounded to even go into detail here. It was a tragic and totally unnecessary crime, and the Supreme Court decision echoed the feelings of many Americans.
14. Stanley Leaves Us
On March 7, 1999, iconic American filmmaker Stanley Kubrick passed away due to a heart attack. CLOCKWORK ORANGE, THE SHINING, FULL METAL JACKET, EYES WIDE SHUT: Kubrick gave us so many compelling and, truthfully, disturbing movies. For some, those are the best kind, and he will always be remembered as a great artist.
15. Joe Dimaggio's Life is Celebrated
On the day after we lost Stanley Kubrick, we lost another beloved American hero, the legendary baseball player Joe DiMaggio. His death was caused by lung cancer. He was 84 and sure saw America from an interesting point of view. The loss of this former star was felt all over the nation.
It's fun to think back to these moments in the popular culture of 1999, even though not everything that happened was happy. Most of us lived through all these events and remember them well. Come back next month to see what we resurrect next.