If you haven't checked out Houzz.com, you're in for a treat.
Houzz
is a home design site with hundreds of thousands of interior and exterior photos, thousands of articles written by design experts, and several tools for managing the remodeling process. I am opted in to Houzz's weekly newsletter, which delivers inspiration via ideabooks that will make you swoon.
Our product pages at Pegasus Lighting are easy to navigate, but they don't always include tons of application photos. I find that sifting through Houzz's ideabooks can spark new design ideas in an instant! Here are three photos from Houzz.com that are easily recreatable with Pegasus Lighting's products.
1. The Multi-Layered Dining Room: 
Isn't it beautiful? This look is achieved by using four layers of lighting (five if you count the fireplace)! The cove lighting on the ceiling is done in a warm white color temperature. The designer likely used a customized lighting strip, probably something very similar to our 
xenon low voltage light strip
. The four
mini recessed lights
 add just a touch of general lighting – and the two in the center are swiveled to also illuminate the wall art. The in-cabinet lights call attention to the glass cabinets, and with the cove lighting, create excellent accent lighting for the room. Finally, the under cabinet lights provide countertop lighting in a warm color temperature, likely with a
xenon under cabinet light
fixture.
2. The Modern Outdoor Staircase:
If you love this look, check out our
LED Indoor/Outdoor Step Lights
. We are big fans of LEDs for step lighting. They allow for low-profile installations that provide just the right amount of illumination in a tastefully subtle design.
3. The Sleek Kitchen LED Lights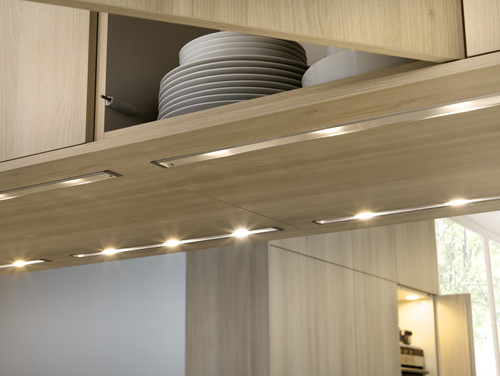 Here's another place where LED light fixtures shine for their ability to fit in beautifully compact styles. We named our
LED Very Thin Light Bars
for this quality. The added bonus of LEDs is that they are so efficient you can go decades without replacing lamps inside the light fixture.
Seen any gorgeous interiors or exteriors with lighting designs you'd love to recreate? The comment section awaits!