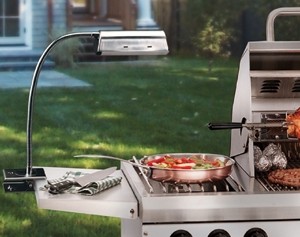 Summer grilling season is coming up!  Don't forget to download our new Lighting Library App for your iPhone, iPod Touch, or iPad by April 30 to enter in the drawing for one of two Halogen Clamp-On Barbecue Lights we are giving away.
Having sufficient task lighting by the grill is essential for gaging cooking times at dusk and into the evening.  The Halogen Clamp-On Barbecue Light is weather-resistant with an flexible neck that adjusts to any position.  This is regularly a $59.90 value, so make sure you enter!
How to Enter:
1. Download the app to your device at http://itunes.apple.com/us/app/lighting-library/id366536372.

2. Open the app and visit our More section from the home screen or the bottom navigation bar.
3. Select the Feedback / Support link and your email program will open with the to address and subject line pre-filled for you.
4. In the body of the email provide your name and shipping address.
We will select a winner by May 4 and notify you by e-mail if you win before shipping your new barbecue light!